Several former HC runners were in action last weekend, many running meets for the first time this season.
Pete Richard (class of 2008) came to cheer us on at KLM on Saturday, then was toeing the line for the Chicago Half Marathon the next morning.  Pete's ambitious goal was to run 1:13, but a hard week of training (he put in 80 miles last week) left him a bit more tapped than he thought he might be.  He still ran a very respectable 1:15:58 (that is 5:48 pace for 13.1 miles) and finished 30th overall out of the thousands that competed.  Pete reports he was slightly disappointed with his time, but is really focused on his main goal of setting at PR at the Chicago Marathon this October.
Not present at KLM, but represented by his parents, was Chris Kennedy (class of 2013). Chris wanted to be at the Hornet-Red, but had a good excuse as he was working sidelines for the Illinois football game).  Chris ran his first race for the Club Illinois team last Friday (Ryan Somerfield and Ankit Aggarwal will also be joining him on that team).  I could not find results, but I did find this:  http://www.illinoistrackclub.com/      Looks like Chris has taken over the Illinois club running blog!  A man after my own heart.   At some point this season, the Illinois Club runners should be competing against the Miami Striders of Oxford Ohio, where Pete Stubbings (class of 2011) is coach and Jack Keller (class of 2013) is a top runner.
Billy Fayette (class of 2011) opened up his season at the "Covered Bridge Open" in North Carolina, where he finished 45th of 94 runners with a time of 22:09.  Billy and his Wake Forest teammates will be competing next weekend at the Furman Invite.
Matt Kane (also class of 2011) had a nice opener for the Loras Duhawks.  Matt was 65th of 127 at the Central Dutch Invite, covering the 8K course in 30:34.
A couple of our recent graduates ran their first collegiate race.  Emmett Scully donned the Boston College uniform for the first time for a 5K at the Nassaney Invitational in Rhode Island, finishing around 6th for the freshman.  Meanwhile, on the otherside of the country, Kevin Huang made his debut for Claremont-Mudd-Scripps finishing as the teams 7th man at the 'Nationalball Classic' hosted by Westmont College.  He ran 21:55 for the 4.2 mile course, finishing 9th overall.  Kevin will next compete at UC-Riverside this weekend.
Neil Pedersen (class of 2011) is entering his junior season at UW-Stevens Point.  He did not run the team's first low key alumni invite.  The team is scheduled to compete on Saturday at UW-River Falls, so I will be eager to see if Neil is back in action.
As for Billy Magnesen, I hear it his birthday today, and he is now a legal adult and he is 19 years young.  Happy Birthday and congratulations to…William Magnesen.  Also, there is this: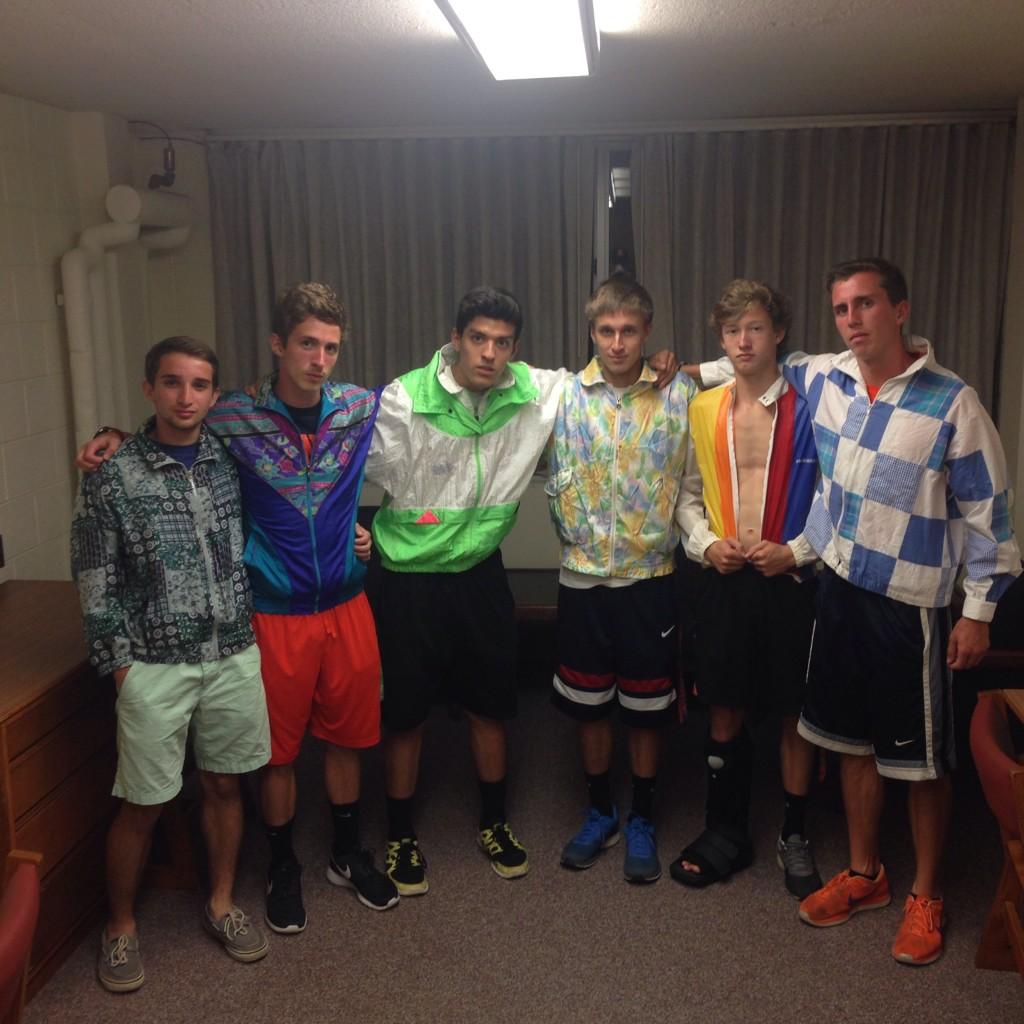 Apparently Billy is already fitting in nicely with his new Illini teammats (credit Tony Zea, via the DGNXC twitter account, for the impressive photograph.  I think Coach W has a similar jacket…)
On the home front, I'd like to give a shout out to senior Max Maydanchik, for being named a National Merit scholar.  Max is another example of a runner excelling both in the classroom and the athletic field.  I'd also like to give Max props for taking my suggestion and acquiring a copy of Miles Davis's seminal "Kind of Blue" on vinyl.  Great name, Miles Davis.
We have had another solid week of training that has featured epic battles against mosquitoes at Waterfall Glen and 1000 meter repeats under skies that looked ominous at the start of the workout but which ended under bright blue skies.  We're headed to Peoria tomorrow for the "First to the Finish" invite, squaring off against 9 of the top 14 teams in state (as ranked by dyestat).  It promises to be a great test for us.