The 2013 cross country season was historic for the Red Devil boys' team, as we earned our first ever state title and invitation to compete at the Nike National meet.  It was the first time we ever took the victory at the Hornet-Red Devil Invite and at the First to the Finish Invitational.  Yet there was one accomplishment which even last year's legendary team did not achieve, and that was to win a Conference title on the varsity level.  To find the last Hinsdale Central team to have reached that milestone, one would need to travel back to 1955, in the days when Dwight Eisenhower was president, the NFL did not yet exist, and Roger Bannister had only recently proved that the 4:00 barrier for the mile run was not impossible to break.  Yesterday, in the moments before the varsity race, I saw recent HCXC alumni and Hinsdale Central sports super fan Matt Friedman who reminded me of this simple truth in the way only he can: "Coach, if you guys don't win today it will be 59 years!"
When we met last November to discuss our aspirations for this season, one of the unstated but understood goals was to win the conference championship that eluded us in 2013.  Winning conference would be one of the smaller goals we set on the way of achieving our larger one: becoming a better team in 2014 than we were in 2013.  Now that the conference races have been run, I can say with extreme pride that not only did we win conference at the varsity level, but that every member on the team contributed to helping us attain our larger mission – this 2014 team is truly the best all-around squad in HCXC history.
As self-appointed team statistician, I can happily now share the data which proves that HCXC has continued its tradition of improving every year.  To make the point, we must look at the collective effort of all four levels.  In the chart below, I tabulated our total points (combining the frosh, soph, jv, and varsity races) for each year of the past decade, as while as considering the combined places of each squad, and finally our total all-conference runners:
| | | | |
| --- | --- | --- | --- |
| Year | Total points scored at conference (all four levels combined) | Total of place finish for all four levels | Number of all-conference runners |
| 2005 | 531 | 20 | 4 |
| 2006 | 472 | 17 | 4 |
| 2007 | 486 | 18 | 4 |
| 2008 | 393 | 15 | 6 |
| 2009 | 375 | 18 | 8 |
| 2010 | 350 | 14 | 9 |
| 2011 | 343 | 13 | 9 |
| 2012 | 299 | 12 | 12 |
| 2013 | 269 | 10 | 13 |
| 2014 | 239 | 8 | 13 |
I am so proud of the fact that we have improved every year, each team building upon the next.  Each year it becomes more difficult to continue this tradition, and this year's group more than answered the call.  The numbers above give us the general trajectory, but they don't tell the story – for that, we need to hear more about the individuals on this year's team who made our goal become a reality.  I'll try to highlight as many of those team members as I can, as we break down this year's meet by each level.
The Freshmen
I did not get to see the freshman race, as I was appointed to travel with the juniors and seniors on the late bus, which left at 11:00 a.m. – just about the time that the Freshman reached the final mile of their race.  I cannot speak to tactics, but only of what I learned from reading the results, talking to the freshman, and of what I have observed of this group since they joined our team in late August.  The freshman were coming off a heartbreaking loss to Lyons Township in which they were defeated on a 6th-man tiebreaker.  They responded in resounding fashion, earning a 3rd place finish, which is as high as any freshman team has finished in the decade that Coach Westhphal, Kupres and I have coached together.  Neil Cumberland's 6th place  finish has only been bettered by two freshman HC runners in the past decade (Neil Pedersen was 2nd in 2008 and Andrew Irvine was 5th in 2012).  Adam Jaber finished 13th, which is the same that Ethan Planson finished last year.  Steven Zaher was 18th, which was the same place Billy Fayette earned as a freshman.  Billy went on to become the first all-state XC runner we've coached.  Steven's family is no stranger to all-state finishes, as his sister Anne is the returning state champion in the 1600.  Perhaps he will follow in the footsteps of both Billy and his sister.  I can tell already he has the right disposition for such a challenge.  Following Steven were Sean O'Connell in 20th and Colin Yandel in 24th (accomplishing the goal of top 25 which the coaches set for him).  Senior Josh Feldman could tell them that, as a freshman, he finished 26th.  Now, as a senior, he will be running to try to earn a state title.  Before him, there was Zach Withall – 25th as a freshman, later to become a 4:16 all-state miler.  Thomas Pierce and Justin Lue were 58th and 59th. Ryan Somerfield, back as an alum to cheer the team on, was 56th as a freshman before earning all-conference honors as a senior and running in state for both XC and track.  For runners like the Kowalchuk twins, Nathan Saltzman, Ian Stevenson, Donald Brorson, and others – there are role models like Alex Lambert, Stefan Rosas, and Joe Griffin to take after – all three finished in the bottom third of all runners in their freshman conference meet but stuck with the sport and will leave the program knowing they are capable of way more than they ever imagined after their first season.
The Varsity
Though I tried not to show it, I was more nervous about the varsity level of the conference meet than any competition since last year's state XC meet.  One only gets so many chances to do something as memorable as win a conference title (especially in the West Suburban Silver) and I knew that this year we were better positioned than ever before.  If we did not execute, it is hard to say when another such opportunity might come along.
Since there is so much to say, and since I will undoubtedly be writing much about our varsity top 7 in the coming weeks, I will for now refer everyone to Mike Newman's recap on dyestat: http://www.dyestatil.com/gprofile.php?mgroup_id=44774&do=news&news_id=291727
Let me just say that it was a proud moment for us to win against such incredibly professional and talented programs.  We were able to end York's streak of consecutive conference titles at 13 (they'd not lost since 2001) and to be a part of that while Mr. Newton remains at the helm of York is humbling beyond words.
Junior Varsity
Our JV guys tell a story of vast improvement.  Though we'd hoped for a first or second place finish, we managed a respectable third behind deep teams from York and LT.  However, our 59 point total was the lowest we have ever scored at this level.  We had 11 guys finish in the top 50.  And with the exception of Garrett Schmidt, whose mere presence in the race was to be celebrated, every guy who ran the open race for the second year in a row improved upon his place.  Leading the way was Jeff Hopkins, who dropped 51 places (from 132nd in 2013 to 81st this year).  I saw him minutes after he finished, coated with mud, and his exhaustion was evident.  Here is a man who learned to push himself to his limits, something he had shied away from earlier in his career.
Like Jeff, Sunil Dommaraju is another guy who can celebrate a big improvement: he dropped 37 places from last season, finishing 118th on the mud drenched course.  Sunil is one of our most consistent athletes, putting in mileage similar to our top varsity athletes.  It was gratifying to see him run well in his final race.
Looking deeper into the results, I noticed that Alex Lambert and Joe Griffin both improved exactly 31 places, and I thought to myself, 'that's about perfect.'  These two have worked with each other from the very beginning.  They both carry an inhaler with them, have both overcome asthma – and thus have seen ups and downs together.  They are great friends.  And in 2013, both finished in the 50s at JV conference.  One year later, they were both in the 20s.  Both are great success stories of our program.
Also improving the same amount were Matt Tobia, Stefan Rosas, and Brendan Krupp – each dropping 19 places from last year.  Here are three more seniors who have been as invested as Alex and Joe over their HC careers.  Brendan has probably come the farthest, simply because he was truly SLOW when he started with us, but now is fit and fast.  Matt has seen some success in middle distance events in track, but had traditionally struggled a bit more in Cross Country.  Yesterday he came alive in the final mile of his final high school race and raced with more authority than he ever had in XC – as I did not get to see results before the JV awards were announced, I craned my neck and cupped my ear to try to hear if Matt earned all-conference (watching his race, I knew it would be close).  When I heard York's Coach Kern, who was MCing the awards, announce Matt as 13th, a big smile crossed my face.
Which brings us to Stefan.  Of everyone who raced yesterday, his final mile was the most poignant.  It marked the end of a quest he'd begun 5 months previous: to run 1000 miles between the first day of summer running on June 16th and the day of the Conference meet.  In a race where he finished 58th overall (improving on 77th in 2013) he crossed the finish line to mark exactly 1000 miles on the season.  What an amazing accomplishment for an unheralded athlete.
Stefan being Stefan, though, he did not stop there.  He joined teammate Alex Lambert for an extended cool down.  Alex finished the race having run 994.5 miles up to that point – so he set off an a 5.5 mile cool down.  As the final awards were being announced, Alex and his black group teammates returned from a few more laps across the muddy expanses of Proviso West, dirtied and exhausted, but elated beyond words.
Oh, and there was also this:
Yuji Cusick @YujiCusickXC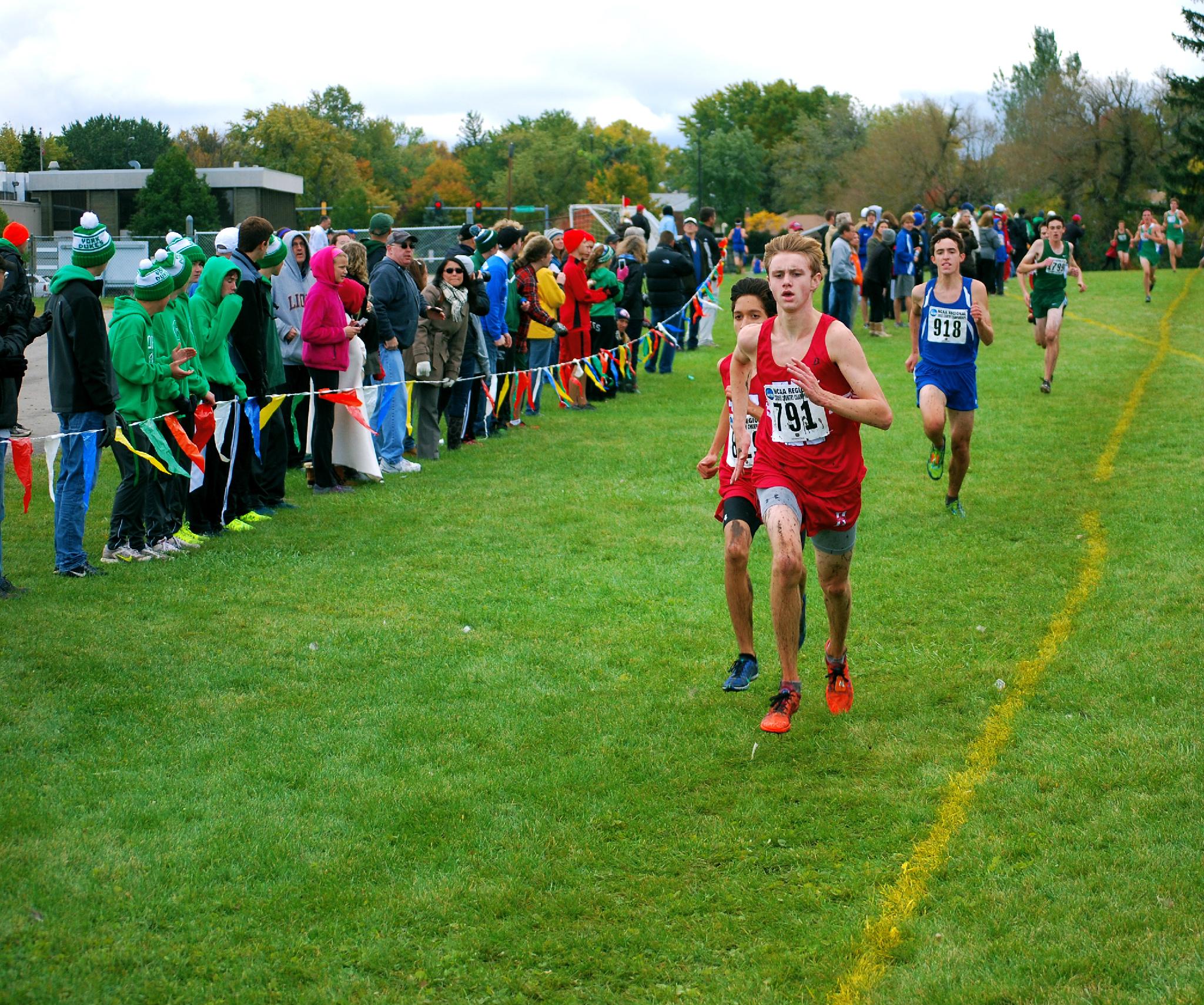 After missing 6 weeks due to a stress fracture, @Andrew_Irvine13 comes out and races as Hinsdale's #1 JV guy #IRVMove
The Sophomores
I have left the Sophomores for last.  To tell the story of their race, we must travel back to Kenosha, when we had individual meetings with each athlete in attendance to discuss goals.  The three sophomores in attendance (Ethan Planson, Jacob Belgrad, and John Bynan) determined that winning the conference title would be their ambitious team goal – that they'd return to Hinsdale and discuss this dream with their Sophomore teammates.  From what I heard, there was a weekend meeting in late August that functioned as both a fantasy football draft and a way for the Sophomores to join together and make a pact that they'd work together to try to pull off an upset win (they'd been 4th as freshman).
The goal got off to a shaky start.  Less than a week after Kenosha, John Bynan learned his peroneal tendinitis, which had bothered him throughout his freshman track season, had flared up again.  He'd be relegated to cross training, stuck inside on the bike while his teammates pounded the miles outside.  Throughout the season, most of the sophomore experienced some type of injury associated with growing pains.  We suffered dual meet losses to DGN, to York, and, narrowly, to Lyons Township.  The notion that we could pull off a victory seemed remote at best.
If ever a group rose to the occasion, though, this was the group.  We looked great up front, with Ethan Planson and Jacob Belgrad running with a maturity beyond their years.
Here they are at the mile mark, tucked behind three York runners.  By the final mile, they would pull ahead, and finished 2nd and 3rd overall, achieving a goal I'd set for them, and giving us two 'low sticks' which would prove important in the final standings.
Ryan Doorhy came next, in 15th, just managing to hold onto an all-conference spot.  It was not until much later that I learned Ryan fell three times in the first mile.  That he did not allow this to faze him and toughed it out through the end also proved hugely significant.
More than anyone, though, it was John Bynan and Ben Schnieders who helped make yesterday so memorable.  John Bynan never ran less than 50 miles per week from June 16th-August 16th.  Yet, he spent almost all September cross training, logging only barely 50 miles for the entire month.  His toil proved worth it – despite struggling in his first dual meets back, he put everything together when it mattered most.  Though he missed all-conference by only one spot (Emmett Scully tweeted to remind me that one Billy Magnesen was also 17th as a Sophomore), all he will remember from his sophomore conference race was being the difference maker in securing his team the victory.  He was the 4th man we needed him to be.
And Ben Schnieders was the 5th man we needed.  After missing his freshman conference XC season with a broken arm, and then missing much of track with a broken foot, Ben finally got a season to be healthy.  He passed 4 guys in the last mile.  We won by 4 points.  I've never seen him so overjoyed as when he learned he and his teammates won Conference.
What was best about the Sophomore performance was that it went beyond the top 5.  We had several newcomers join us this season which make our group significantly stronger.  Belgrad joined us last track season, and finishes third in his first ever conference XC meet.  Finishing between 29th and 36th were four guys relatively new to the sport: Emmett Grundberg (29th), Andrew Denos (31st), Sam Fathizadeh (33rd) and Jack Kanzler (36th).  And behind them were our two most improved Sophomores: Joe Miscimarra (38th, after finishing 72nd as a freshman) and Michael Chadwell (49th, after being 71st as a freshman).  That gave us 10 guys in the top 38, and 11 in the top 50.  We ran great up front, and we have depth.  This bodes well.
It was the generally soft spoken Planson who expressed best the feeling of the Sophomores and so many of our HCXC community when he wrote on his logarun simply, "I'm just so happy."
And to that HCXC community, we say, thank you.  It was so awesome to see so many siblings, parents, alumni, parents of alumni, and former coaches and mentors yesterday.  There are too many of you to mention, but I'd like to acknowledge at least our recent alumni who came back to cheer us on and lift our spirts: Keaton and Sam, Brad and Ryan, Sagar and Ankit, Jack Griffin and Chris Kennedy.  Pete Richard, less than a week after running the Chicago marathon, sprinted across the course with me.  I got to shake hands with Coach Schlueter and Coach Snee, got to debrief later in the evening with Coach Rowe.  Our two favorite grandpa's were in attendance (Andrew Irvine's Grandfather, upbeat as ever, and the indomitable Vern Magnesen) and so was Nina Tandle, older sister of Nick and my #1 twitter follower.  That support was felt warmly by the team, and will be the wind at our sails in the weeks ahead.
And so, as we move on to the state series, it is worth reflecting on where we were exactly one year ago.  We'd just finished second at Conference to York.  We could have had no way of anticipating what would await us in the weeks ahead.  We remained the second ranked team in state, with most people still viewing York as the prohibitive favorites.  All of this is to say that the next few weeks remain an unknown entity – they may yet prove to be beyond our wildest dreams or short of our hopes and expectations – what we do know is they hold promise.  Few teams get to enter this phase of the season in such a position as us – we are blessed to have the opportunity.  I know that the seven men who will represent our team at state will do so knowing that their teammates have pushed them to this point, that anything they accomplish is a feeling to be shared by all who make up our HCXC family.  My sincerest wish is for everyone to be able to say, on November 9th, "I'm just so happy."